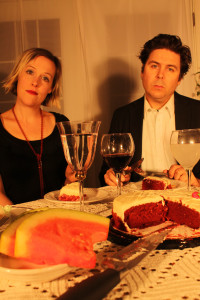 Schwervon!'s new album Broken Teeth will be released on CD and digital media by Haymaker Records on September 30th, 2014.  This is the third release on the label and will be the first release in the newly created Home-Fi Series on Haymaker.   The goal of the Home-Fi Series is to provide an official release for special home recordings, demos, long-lost rarities, and one-offs.
After two years of whirlwind touring and a family member's cancer diagnosis, Schwervon! found themselves moving from their Lower Eastside apartment in New York City to a basement (of the house Matt grew up in) amongst the suburbs of Kansas City, Kansas. Frustrated with the process of writing new material, Matt and Nan started reworking some songs off of their third album I Dream Of Teeth. The result defied logic: a more vulnerable sound and yet somehow more kinetic. The material was given a new life through a raw acoustic treatment. By the time they were done they had worked out six songs off of I Dream Of Teeth, as well as two cover songs.  One by The Vaselines with whom they toured with in 2011, and another by one of their favorite NYC artists The Purple Organ. The songs for Broken Teeth were recorded in their basement practice space in Shawnee, KS where they reside with Matt's Dad Harry, who they are happy to report is in remission from lung cancer.
Read Schwervon!'s notes on this new album and hear a couple early unmastered tracks.   They've also provided their thoughts on the philosophy of Broken Teeth and provided some photos of the recording session.