Kansas City-based Haymaker Records releases the album Mammoth by instrumental art rock group the Jorge Arana Trio on digital media on Friday September 23, 2016 and on vinyl LP on Friday October 14, 2016. Mammoth is the third album and second full length release for the Jorge Arana Trio and will be celebrated with release parties in Kansas City, Missouri and Lawrence, Kansas. The first album release concert will be held at The recordBar, 1520 Grand Blvd, Kansas City, MO, on Friday September 2nd at 9PM. A week later, on Friday September 9th at 9PM, the group plays at Jackpot Music Hall & Saloon in Lawrence, KS.

The Jorge Arana Trio is Jorge Arana, Josh Enyart, and Jason Nash. They were formed in 2011 from the sparks of several progressive outfits colliding in an avant-garde geometry of rock, jazz, classical, punk, electronic, experimental, and incidental music. Jorge Arana Trio's latest offering, Mammoth, is a sophisticated blend of sounds and structures that challenges expectations, pushing the art rock genre into the world of progressive music with jazz fusion and math rock elements. Building on previous albums Mapache and Oso's use of playful genuine interaction in the patterned riffs and rhythms, Mammoth ups the ante by incorporating a tense and dark mood across the entire album.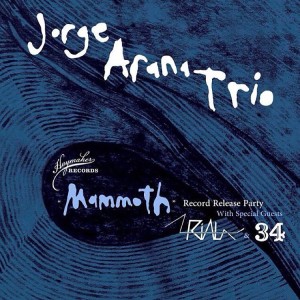 "Speak, Beast" sets the tone, casting a menacing shadow of distorted lead guitar over brooding keyboard pads and drums that sound more tribal than belonging in a rock band. With Mammoth, the listener gets the feeling that they are in an epoch not their own – they are in a world of gnashing tusks, embattlement, and ultimately survival. Recorded in early 2016 by Justin Wilson at Sound 81 Productions, the album marks a new place and time in the Jorge Arana Trio's musical endeavors. The vinyl is pressed in limited edition silver vinyl with digital download included. It is the sixth vinyl release for Haymaker Records.
The Trio will be joined by heavy rock group 34 and Haymaker Records labelmates Riala for The recordBar release show on September 2nd. Advanced tickets may be purchased online through recordBar. For the Lawrence, Kansas Jackpot Saloon show on September 9th the Trio will be joined with Boston art rock group Bent Knee and Lawrence doom funk group Hyperbor. In addition to the two release shows, the Jorge Arana Trio are also one of the featured performers at the two-day annual ICT Festival in Wichita, Kansas on Saturday September 3rd. Copies of the new vinyl record will be available to the public for the first time at these events. A 3-week U.S. tour of the midwest, east coast, and south will follow in late September with dates to be announced later.
–Friday, September 2nd – Kansas City, MO – The recordbar – Facebook Record Release Event
–Saturday, September 3rd – Wichita, KS – ICT Fest 2016 – Facebook Festival Event
–Friday, September 9th – Lawrence, KS – Jackpot Saloon – Facebook Record Release Event
Pre-order Mammoth here. Items will ship before the actual album release date with digital files available immediately.